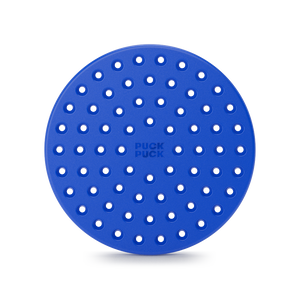 Additional Splash Filter
Sale price Price £5.99 Regular price
The Splash Filter is a direct replacement for one that comes with either the PUCKPUCK or PUCKPUCK Solo. 
During a brew the SPLASH FILTER is placed on top of the coffee grounds within the Aeropress to help to distribute the water dripping from the PUCKPUCK more evenly across the surface of the coffee to ensure a more even and consistent extraction.

When not in use, the SPLASH FILTER clips onto the PUCKPUCK for easy storage.
FEATURES
SplashFilter for assisted water dispersion

Made from food grade (BPA free) plastic

Only works when combined with the PUCKPUCK (not included) and AeroPress® Coffee Maker (not included)

Comes in PUCKPUCK Blue colour


The PUCKPUCK was developed by PuckPuck Ltd. and is in no way affiliated with or endorsed by AeroPress, Inc.
AeroPress® Coffee Maker is a registered trademark of AeroPress, Inc.